Vive Le Tour!
It's back, the cycling event of the year. I have to admit that for forty years of my life this event came and went and I paid it little if any notice. Sure back in the late 80's when Greg Lemonde was making waves I heard things. But with a name like Le Monde I wasn't even sure he was a legit American. The Tour was a European event for Europeans. Americans were not only not winning it, they weren't even placing in the top ten, or top twenty. If it wasn't happening on our shores and my countrymen weren't competitive in it, I didn't care. That should have changed with the Tours de Lance; the races that captured the interest and imagination of thousands of otherwise apathetic yanks. Interest in cycling grew and new fans joined the ranks each year, I wasn't one of them however. It wasn't until I purchased my first road bike (this would be February of 2010) and began training for my first big road race that I truly began to appreciate the sport, the level of conditioning of the athletes, the suffering that takes place on a huge ascent, the white knuckle-literally taking your life in your hands descents, the incredible athleticism of the sprint finish, the beauty of a finely tuned race bike, the ballet-like grace of man working with machine in perfect, efficient harmony. I'm ashamed to admit there was a time (and it wasn't long ago) that I couldn't understand how you could watch a bike race for 3(+) hours and be entertained. Now I can't get enough of it. Even my kids are into it, especially my oldest son, Mathis, who will always pronounce it tour de Fronce, and may one day name his first child (boy or girl) Phil Liggett Larsen.
It's inspiring. The way the Olympics make you think you could take up swimming, do the high hurdles, or heck, steeple chase. That looks fun. I'm pretty sure my brothers and I set up a steeple chase course in our backyard (with water hazards and everything) and we didn't even know it was a competitive sport, let alone part of the Summer Olympics. Watching world class cyclists makes you believe, or want to believe, that you could do that too. Clearly not as fast or as powerfully, but competitively, with like minded middle-aged cyclists? Certainly. So with the familiar echoes of Phil & Paul still sounding in our ears and the ridiculous power and refreshing exuberance of newcomer Peter Sagan in our minds we start our tour week challenge:
Mountain Stages: Big Cottonwood Canyon and Guardsman Pass:
La Canadienne is a lot of lovely things but happy in the morning is not one. The original plan was to drive over Suncrest and do the Alpine loop to Provo Canyon and back. Well, that was my plan for me, 45 miles and 7500 feet of climb, I didn't think the Canadian cyclist would be game but she convinced herself she could do it and frankly I've stopped doubting her and abilities. So? We're going. Alas, a wildfire (again!) in the foothills of Alpine closed down the Alpine loop. Our prayers are with all the denizens of ours and neighbouring states affected by the scourge of wildfires.

So, plan B. Big Cottonwood Canyon to Guardsman Pass:
Big Cottonwood Canyon to Guardsman Pass Elevation Profile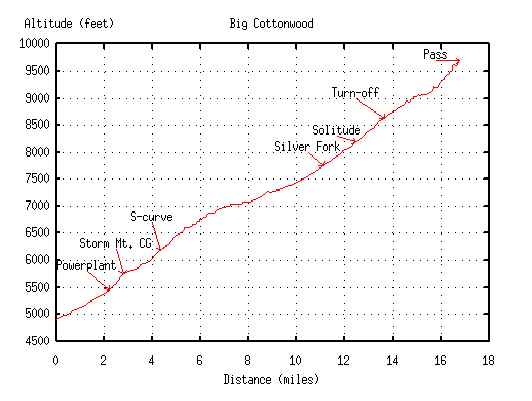 Big Cottonwood Canyon is a 14 (+) mile climb with 4500 vertical feet to contend with. But that's not all.

For dessert we're having Guardsman Pass:
An additional 4 miles and 800 feet of climb with grades up to 15% and all of that above 9000 feet elevation, topping out at 9600 feet.


Sounds like fun doesn't it? It's Tour week, and like I said, watching world class cyclists hammer out ridiculous distances at mind boggling speeds tends to inspire the workaday cyclist to new (and perhaps overly optimistic?) heights. Like the fact that tomorrow Jennifer are planning on Big Mtn (80 miles round trip, 4000 feet of climb) that was the promised ride on my normal day off this week. The Fourth of July falls on a Wednesday this year, giving me an extra day off mid-week, so in a sense today's ride is a just a lark.
New gloves, new wheels (thanks to my St George hook-ups: dregger/Russel&Amanda Leslie), same bike.
Same La Canadienne, only a trimmer more streamlined version of her. She's been cross-training: running and riding (with an occasional lap session in the rec center pool). She has marathon aspirations, possibly the Holy Grail of Marathons (Boston). I condone it, but I only support it passively. She'll have to find her own run partner. Me and cycling have a monogamous relationship. That might be why I'm still soft in the middle and she is not. Also. for our 20th anniversary I got her a new ring, several of them actually. She still has the standard crank up front but out back there's a new cassette(11/28 for those who are curious) It will give her more gears, both lower (for easier climbing) and upper (for faster sprints and flats). Yeah, I know, I'm a romantic. I can't help myself. Happy anniversary, honey!


We took the bike path from below the Cottonwood Heights parking lot (the one Swedish Matt told me about that drops you at the mouth of the Canyon):
and from there it's all one big climb
12 miles to Solitude, 14 to Brighton, just less than that to Guardsman pass.
Same photo I took on our:( Millcreek, Nebo, Big Mtn etc) climb, different Canyon. Pose options are limited when you are shooting from the seat of a bike. That said, it seems my mouth is always gaping wide in these photos and videos. I promise it's the exertion, not a mouth breather at rest. At least I think I'm not. Next blog? Three minute video of me watching TV (just to confirm that fact).
"You're smooth!" (it's the new 'Nice form, lady!' make a note of it [Swedish] Liz.)
Attempt at a profile shot. Does it look like I have a goatee made of lady arms? That's what I thought too. We'll stick with straight ahead photo ops from now on.
At about seven miles in we start to get caught (and dropped) by other riders of both genders
We haven't said as much but this is our first time riding this canyon together.
La Canadienne
has never climbed it before. To chase down the escape may be an honorable thing to do, but on today's ride I'm pretty sure it's a party foul. That said,
La Canadienne
can see it's killing me to hang back ... I have a reputation for being competitive, not sure where it comes from.
About ten miles in. Gorgeous day, and cool, at least at 7000 feet. About this time we get caught by a group of club riders really spinning the cranks. We're on a 4-5% grade and making a steady 10-12 mph and they pass us like we're waiting at a bus stop. La Canadienne tells me "Grab a wheel, hon, see you in a couple of miles!" I don't have to be told twice. I drop the hammer and slip in behind them for some group climbing work.
Still wonder about Mr no-helmet at the rear. Rodzilla says it's old school, no helmet required on the ascent and I get that, though I strenuously* disagree. We're going 15 mph, hit your head on the pavement at even half that speed and you'll be lucky to get away with just a concussion, plus there's no helmet on his bars waiting for the descent. How's he getting down? Is somebody coming to pick him up? If he's a baller he'll hit 50 mph on the downhill. You're gonna want a helmet for that.
*learned that from the movie A few Good Men sometimes you have to strenuously disagree/object.
14 miles and 4500 feet of climb later:
Guardsman Pass.

It's been an incredibly scenic climb already but Guardsman Pass takes it to proverbial HNL*. Wish I had more photos but (with permission) I charge up this climb solo with a promise to return and finish it together. Which I do (and La Canadienne does).
We join the mtn bikers (who got here with a lot less effort than we did) at the summit.
Kudos (and they are warranted) to La Canadienne standing at the top of a mountain that she climbed on a bike. On Strava her Cottonwood climb was 10th best out of only 24 Strava women who had attempted it. The Guardsman Pass climb was only attempted by 4 women on Strava. Of those she was second, behind only a professional cycli
st:
We descended quickly (La Canadienne's descent time was fourth of 24 female cyclists, she's faster than me on the downhill. Even if full tuck with the best form I can muster and even on my new ultra aero carbon fiber wheels she's faster than me ... and I outweigh her by 35 pounds! Not sure what to say/do about that) and spent the rest of the day doing 4th of July stuff with the kids (see, priorities not completely out of whack).
Mountain Stage: Emigration Canyon and Big Mtn:
Uhhh, what to say about this? All the rain Utahns (and Coloradans, Nevadans, Wyomingans? is that how you say it?) were praying for to put out and prevent further wildfires fell on our Emigration Big Mtn ride. We made it to the top of Little Mtn, the skies opened up on us and we called it a day. Spent the rest of the afternoon, cleaning bike frames and lubing chains.
Mountain Stage Big cottonwood Revisited:
So, a word about Strava. Even if you're not a naturally competitive person (which I've been told I am ... sure whatever, I'll play along) Strava will
make
you compete. Every time you get on your bike and ride down a section of road, Strava is watching. Load your GPS data into the computer and what was a leisurely ride around town suddenly becomes an indictment on your level of sloth and lack of dedication to your sport. If any other local runner/cyclist has traveled that rode and posted a time you will automatically be rated against him/her ... them. In other words, it's a competition, every ride all the time. It's worse if you have the temerity to stand on top of the mountain time-wise for some stretch of road. You are then a marked man/woman. Every one is gunning for you and once they manage to beat you? Strava immediately alerts you via email that you've been taken down (and goads you into going out and retrieving your lost crown). Wars have been started over less than this ("
This, this aggression will not stand, man
." -the Dude).
In the spirit of competition that Strava inspires (and in defense of which the Dude boldly speaks out) I looked at my Big Cottonwood Climb stats (they don't so much as pale in comparison to
La Canadienne's
but are rather almost completely eclipsed) and the fact that my Friday morning started at 9 am rather than 8 and thought, I can either sleep in or I can do something about the fact that of 301 BCC bike climbs, my best effort puts me somewhere in the low 200s. I chose the latter:
See? Not competitive at all.
"I never smile if I can help it. Showing one's teeth is a submission signal in primates. When someone smiles at me, all I see is a chimpanzee begging for its life." -Dwight Schrute
Unlike the fourth, today is windy. And I hate wind. Pretty sure we've covered this before
More (open mouthed) suffering
and paydirt.
No KOMs to speak of (wasn't expecting or looking for any, popular rides like the canyons are done so often by so many that they are completely out of reach for even the serious cyclist, especially so for the cyclist who only takes him/herself seriously).
http://app.strava.com/rides/12638161
But I moved up from 209 to 129th on the Canyon Climb, burned a couple thousand calories and felt like a hero all day. Totally worth it.
Next up:
Time Trials, individual and team.